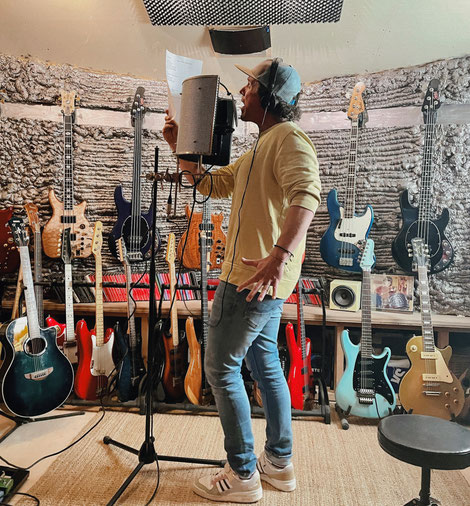 With the release of our latest single 'Wings' on March 11th, it's time to introduce you to the line-up of this production.
First of all, we would like to introduce you to the lead vocalist on 'Wings'.
Proud to announce we had none other than Jeroen van den Berg behind the microphone in our studio.
Jeroen may not yet be a well-known Dutchman for the general public, but in the music world Jeroen has become a much sought-after singer.
Jeroen has been singing since he was a child. He studied classical singing at the Royal Conservatory in The Hague. This classical training brought him into the classical music world as an opera singer. After a few years in opera, he cleared his throat again and turned to pop and rock. It turned out to be a once-in-a-lifetime opportunity. Jeroen became known as the singer of the band jeWelste, but it didn't stop there. He is also a soloist with the Air Force Orchestra and acted as the face of Top 2000 Live in the theatre. Many concertgoers may also know Jeroen as the lead singer of Toto cover band Zeno, with which he has now smashed the entire Dutch club circuit. In addition, he is also a singer with the Originals and it is with this band that he will tour the large halls of the Netherlands in the coming theater season to bring the classic songs of Golden Earring live to the public together with Golden Earring singer Barry Hay.
Go see it all!
So we are very proud of Jeroen's singing! What a great voice and what a professional!